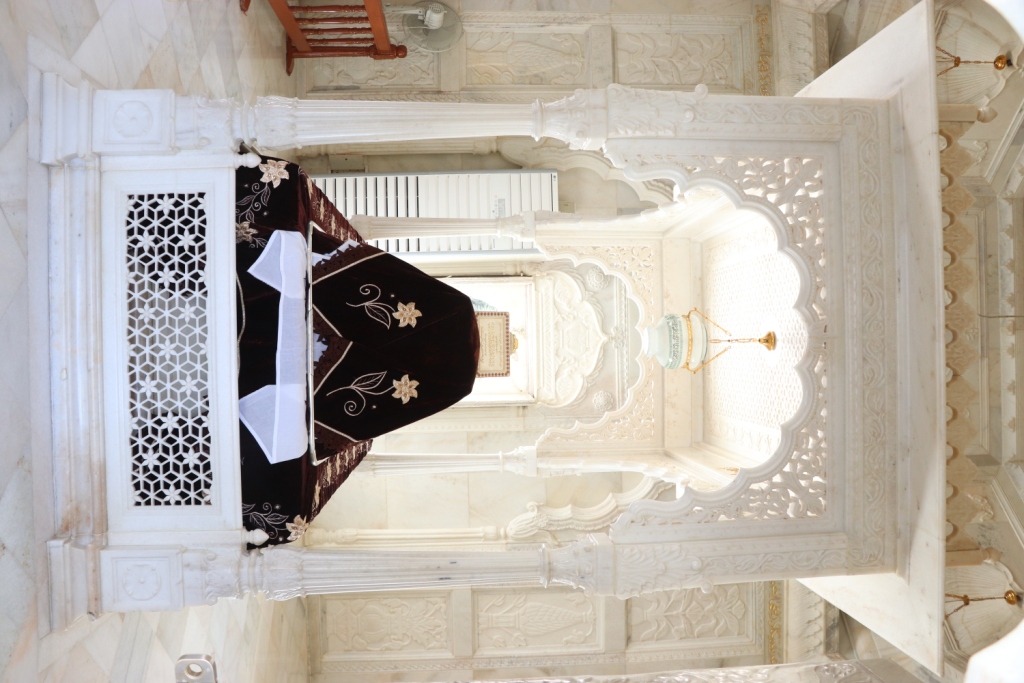 Syedi Abdulqadir Hakimuddin Saheb (QR) was born in the family of saints on 10 November 1666 AD (14 Jamadal Ulaa 1077H) in Rampura. His father's name was Bawa Mulla Khan Saheb. Syedi Hakimuddin Saheb, a person of high-caliber and virtues, displayed exemplary generosity, humility, liberality and munificence. He had a phenomenal status in the Khidmat (Service) of Dawat (Spiritual office) and Mumineen (true believer). He contributed all his earnings in the cause of Deen (religious welfare) and in Allah's path. He never failed to perform Namaz (5 times), one of the seven pillars of Islam and a regular practice of the religion. His piety and wisdom captivated people of all beliefs to seek his advice. He was the embodiment of humanity; one could call him an angel in the guise of a human being.
He completely memorized the Quran in his childhood. His Quran recitation had a mesmerizing effect on the listeners and even magnetized the wild animals to gather and surround him during the recitation. He was a man of letters, who made a lasting contributions to Dawat's literature as a great writer and a poet. He wrote historical texts in Urdu, Sanskrit, Persian and Arabic languages. It was his habit to make copy of religious books. He had developed a full library with two copies of each Dawat Books: one he gifted to the then present Daai (supreme authority of Dawoodi Bohra Sect) and kept another for himself to impart knowledge. Every Friday, he would visit one of the societies where Dawoodi Bohras were residing, to inquire about the affairs of the community. He established many individual and social welfare activities and traditions.
He was appointed deputy head of the Dawoodi Bohra community by the then present Daai, and was residing in Ujjain.
His daily routine was much disciplined. Beginning the day with prayers in the Masjid, followed by reciting of Quran with and by the community members chance by chance, simultaneously correcting their mistakes if any. This noble tradition is followed and continued till date in Bohra community with a revised name 'DAUR' (recitation in turn).
After the daur, Syedi Hakimuddin Saheb imparted knowledge related to Deen (Sabaq) and concluded the first half of the day meeting people who sought his advice and guidance. This routine continued even in the afternoon after offering noon prayers in the Masjid, followed by Sabaq (educational lessons), till the upcoming time of prayer and after that Sabaq again. He consumed his meals at a regular schedule and at consistent times each day. After four hours of sun rise he use to have his first meal and after two hours of sunset his second meal with a planned napping. Resigning from midnight prayers, he resumed his normal activities of writing books till dawn, continuing with a planned and set way of living life.
The Mausoleum of Syedi Abdulqadir Hakimuddin (QR) was first built about two and half centuries ago. The 52nd al-Dai al Fatemi Dr. Syedna Mohammed Burhanuddin Saheb (RA) in 1405 H (1985 AD) expressed his desire that the Roza to be rebuilt and beautified without distorting the basic original scheme of the structure, as a humble tribute to the noblest, Syedi Hakimuddin Saheb.
It has been reconstructed in the best tradition of Fatemi Architecture and philosophy, lofty in concept but simple and sublime in outline; feast for the eyes and joy for the soul; soothing to the nerves and uplifting the spirit; the symmetry being so spontaneous and effortless. The floral design blends very so artistically with the splendor of meaningful Arabic holy writings. The marble obtained from the Makrana reflecting the piety of the saint entombed inside. It was inaugurated on Friday, 8th April 1994 A.D (27th Shawwal, 1414 H)
Syedi Abdulqadir Hakimuddin Saheb (QR) came to Burhanpur in 1729 A.D (1142 Hijri) on his way of preaching Islam. He served the community up to his last breath. He was a great learned person of his time. He passed away at the age of 65, on Friday 25 November 1729 A.D (1142 H, 5th Shawwal).
Out of jealousy and greed some disbelievers exhumed his body after 21 days, to their shock Syedi Hakimuddin's body came out fresh and fragrant, this was his first miracle recorded. Over the years, people's faith grew in Syedi Hakimuddin's miraculous powers, and since then people of all faith and walks of life visit his mausoleum to seek peace, and get their wishes fulfilled.
He became famous as Hakimuddin, justifiably Hakim as he was a healer through his spiritual pursuit and piety and the source of comforts and solace for the suffering. Even today, thousands of faithful flock to his Dargah, taking Mannat (Vow) for "Shifa" from sickness and seeking restoration of health and body, mind and soul. It is said that whoever comes here with a prayer on lips, does not go away disappointed.
52nd Dai al-Mutlaq His Holiness Dr Syedna Mohammed Burhanuddin RA and 53rd Dai al-Mutlaq His Hiloness Dr Syedna Ali Qadr Mufaddal Saifuddin TUS are descendants of Syedi Abdulqadir Hakimuddin Saheb (QR).